FEDERAL ELECTION 2019 – WHAT IT MEANS FOR CAPRICORNIA
Capricorn Enterprise, the region's peak tourism and economic development Organisation has congratulated Federal Member for Capricornia Michelle Landry on her third consecutive win.

Chief Executive Officer Mary Carroll said a number of key issues affecting business and industry played a major role in the result of not just the local seat but throughout Queensland.

"Business and industry want political stability and understand the importance of particularly the mining sector to our regional, state and national economy.

"Having a marginal federal seat in government for the past two terms has resulted in record federal funding across regional priority projects (i.e flood mitigation Yeppen flood crossing/airport, Rockhampton riverfront & Yeppoon foreshore redevelopments), critical infrastructure in water and roads (i.e Rookwood Weir, Bruce highway duplication, Ring Road), as well as major defence projects, which are all job creation projects identified and supported by business and industry.

"Our Federal Member has consistently listened to the needs of industry and has worked closely with Capricorn Enterprise to ensure local businesses get the best deal possible from major government infrastructure projects in our region.

"Capricorn Enterprise looks forward to the commencement of one of our long standing Regional Priority Projects in the Keppel Bay Convention Centre and Sporting Hub which received a funding commitment of $20 Million" she said.

Qld Business News: Federal Election 2019: Coalition returned, must now focus on reforms that matter

Michelle Landry MP, Member for Capricornia, election commitments: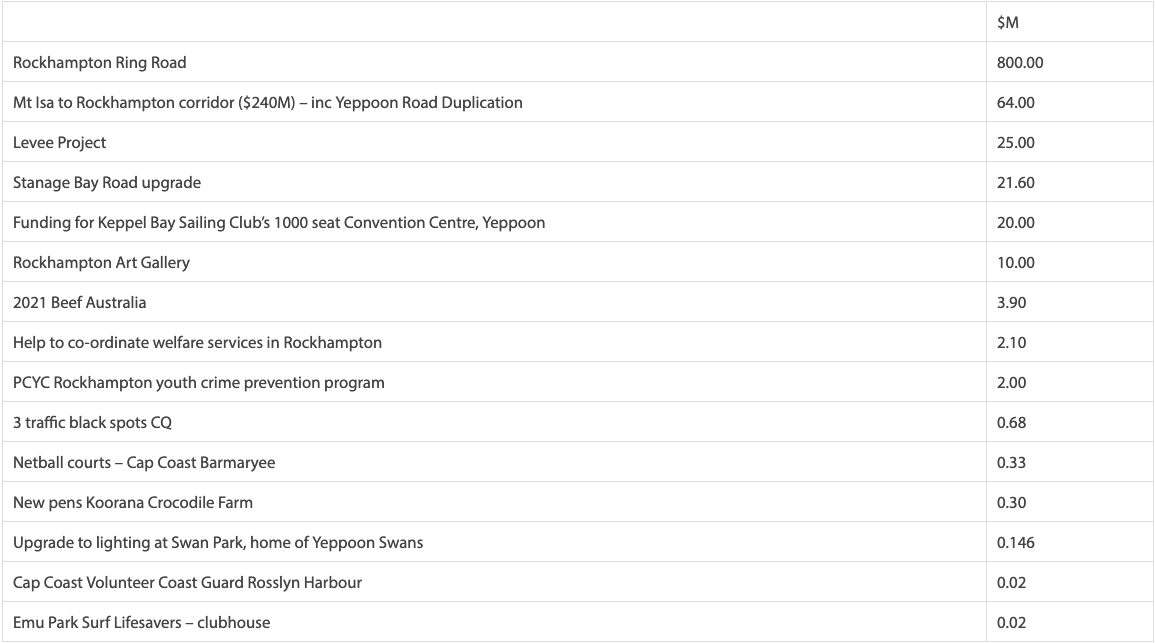 Disclaimer
This list was produced by Capricorn Enterprise. All data and information in this report are believed to be accurate and have come from sources believed to be reliable. However, Capricorn Enterprise does not guarantee or represent that the data and information are accurate, up to date or complete, and disclaims liability for all claims, losses, damages or costs of whatever nature and howsoever occurring, arising as a result of relying on the data and information, regardless of the form of action, whether in contract, tort (including negligence), breach of statutory duty or otherwise.
Source: CapricornEnterprise
https://capricornenterprise.com.au